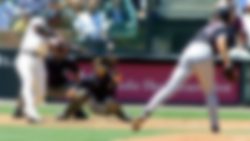 A little history
The Whalehead Baseball League is looking for new members. The dynasty simulation league, initially formed in 1990 (with a four-year hiatus between 2009-2012) is an established league with a stable ownership group.
The league originated as a face-to-face board game league using Pursue the Pennant. We played PTP from 1990 until the game company ceased operation in 1995. From 1996 until 2001 we played Strat-O-Matic baseball. Starting with the 2002 season we moved to Dynasty League Baseball (DLB), a new game made by the developer of Pursue the Pennant. Because of our rapidly decreased free time, which made our face-to-face play untenable, we decided to move to Diamond Mind Baseball for the 2009 season. Coinciding with that move, I met the love of my life. This life development shifted my priorities. As a result, we never played DMB, and the league disbanded.
In 2013, at the urging of longtime member Bob Schoonover and my now wife, Bob's niece, I reformed the league. Most longtime members rejoined. We also built up membership through Dynasty's Facebook group and through the membership of my web site. We picked back up playing Dynasty League Baseball Online, a new online version. The game, which included a computer manager, was an improvement for fitting the game into our  increasingly busy lives. In April 2018, we completed our 6th successful season.
Unfortunately, even with benefit of the online version, we have continued to experience issues with gameplay, primarily due to computer manager problems. The issues came to a head during the 2018 season and, due to the lack of development of the game, I decided to investigate some competitive games.
The first game I looked at was Out of the Park (OOTP). I had read some excellent online reviews of the game and had previously purchased two older versions, which I never had time to play. I decided to give it a good test and purchased the 2018 version.
I was blown away by OOTP.  I found it to be the most comprehensive, realistic game simulation I've ever played. After months of in-depth research, I became 100% convinced a move to this simulation would be a great enhancement to our league experience.
The computer manager is vastly superior to DLB. The game engine is a well-thought-out, cutting-edge simulation based on up-to-date sabermetrics research.  OOTP's player pool, unlike most other sims, is not limited to a subset of the previous season's major league players but also includes full MLB minor league farm systems. Making the increased player pool even better is the top-notch, comprehensive way individual players are rated. What sealed the deal for me, however, was the OOTP computer artificial intelligence (AI). Although not perfect, the AI allows game players to offload game-related tasks to a computerized staff. Using the AI a game player can fit all the game's realistic components into his interest level and busy schedule. And these are just the highlights.
League basics
We play 162 games in the WLB. Our working off-season begins in October 2018. A make-up amateur draft will take place on October 15th using draft lists. Our non-tender/arbitration deadline is December 1st. We'll then conduct a Rule 5 Draft. At that point we will go into a scouting/off-season planning hiatus until February 1st. Free Agent signings will begin and continue until the 2019 OOTP 20 game is released in March. Spring Training will take place before we begin our 2019 championship season.
Our 2019 regular season will be played over the summer on a staggered schedule (with a slower pace during July and August) and will be completed  during September. Our playoffs and season will end in early October. We'll then discuss our experience and reassess our schedule for the 2020 season.
(For those familiar with OOTP…WLB is tethered to real life. Each year I will update the player ratings when the new player ratings are updated in March. Injury, Positional Experience, and Morale will be carried over from the previous league season. All other ratings will be updated to the New Standard Game Ratings. View all Game Settings.)
New game, some new blood 
Not everyone is good with change. Although most of the Whalehead League members have either embraced the change or, at the least, giving the new game a fair shot, three members decided they weren't willing to try OOTP. I sadly accepted their decisions and am now actively looking for new members to take over their teams.
Currently two teams are available, Atlanta Braves (80-82 in 2018) and Oakland Athletics (44-118). Atlanta has the best talent of the two teams, with some good pitching and some pretty good position players. It also has OOTP #6 rated farm system in the league. Oakland has the least Major League talent, but has some good prospects (headlined by Fernando Tatis Jr.) and the #1 overall picks in the 2018 Make-Up Amateur Draft (Joey Bart) and the 2019 Amateur Draft.
Other teams might potentially be available.
The league uses Slack and will be adding Statsplus+ to our web site prior to the 2019 season. The league also has a private Facebook Group, which is getting phased out.
Team vacancies will be filled first-come, first-served. If you have interest, contact Jim Furtado.