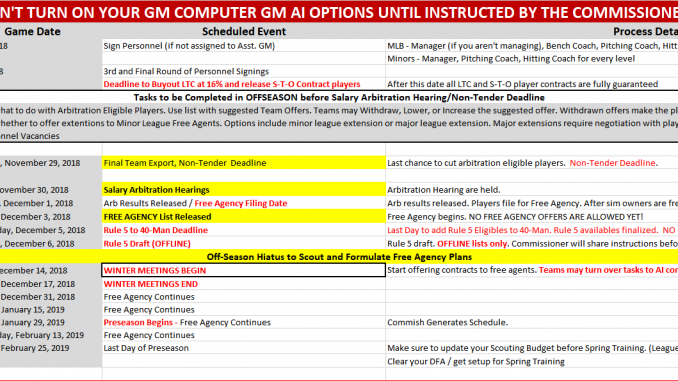 After talking to a few of you, and to help relieve some of the angst a few of you are feeling about learning the game, I'm shifting our offseason back a month. Instead of conducting our makeup Amateur Draft in September and then passing in our arbitration offers and non-tenders (Protection Rosters) on November 1st, I'm pushing things back another month.
The makeup Amateur Draft will take place using lists (or automated according to your draft budgets and real draft order) on October 15th. The Protection Roster deadline will be pushed back to December 1st.
After the Free Agent list is released in the game on December 1st you will get a week to make initial contract offers to free agents, the Rule 5 Draft will be conducted outside the game. After the Rule 5 Draft is completed, we will go on hiatus until February 1st. During this hiatus you can conduct your scouting (be sure to learn how to use shortlists), design your gameplan, and prepare for the free agent signing period, which will start on February 1st.
The updated timeline gives us five months (July-November) to learn how to do Protection Rosters in the game. (It's not complicated.) We then get two months (December-January) to finalize our scouting (using real MLB statistics which will be available online in the first week of October) and plan for free agency.
In total everyone will have six months to learn the game. With the Quickgame, you'll also have six months to practice making moves in the game. (You can create multiple offseasons using the Quickstart, which means you can sim the offseason with your team as often as you wish.