2022 Settings
Waiver/DFA Length = 4/8 days during season – 7/8 during the off-season. 
Enabled = Right to Refuse Minor League Assignment 
Allow incomplete minor league rosters (ghost players) (changed for 2023)
Rule 5 Draft – December 9th (will be moved to the last day of in-game Winter Meetings for 2023-2024) 
Disabled List Length = Position Player – 10 days / Pitchers – 15 days
Draft Pick Trading disabled
Trading of Recently Drafted Players – One year
DH Enabled for entire league
AI Trade Frequency = Low
AI Trade Difficulty = Hard
Minor League Option Years = Yes
Allow Trading of Injured (>7 days) players
10/5 Rule (veterans have right to veto trade)
Trading Deadline – August 1st (full trade deadline)
2002 Collective Bargaining Agreement Rules Enabled
---
ROOKIE DRAFT
Amateur Draft Date = around December 6th (game date) TBD 2023
Number of Rounds = 25
Generate Player for X Rounds = 30 (players not drafted who are automatically moved to future seasons will be manually made free agents)
Pool Reveal Date = 60 days prior
Advanced Draftee Signing (Signing Bonus Negotiations) DISABLED
DISABLE automatic creation of free agents
Our Player Pool will consist of players who are not in our league and who appear on the Top 30 prospect lists on MLB Pipeline, Baseball America, and Fangraphs. If those lists don't generate a large enough pool, the Commissioner will add the highest-selected players from the previous year's MLB Rule 4 Draft. Only players with a Baseball Reference Minor League ID are eligible. 
---
FINANCIALS
Min Days of Service = 172
Average Attendance = 31000
Average Ticket Price = $35.50 (teams may change ticket price)
Visiting Team's Gate Share = 30%
Free Agency = 6 years of service
Arbitration = 3 years
Minor League FA = 6 years
National Media Contract = See Below
Local Media Contract = See Below
Merchandising Revenue = See Below
Revenue Sharing = Set Percentage of Incom
Shared Percentage of Income = 30%
Cash Maximum = See Below Cash Maximum will be reduced to $10 million for 2025. 5/5/2023 (real).
---
FINANCIAL SETUP SUMMARY & PROJECTIONS
See image below. 
---
TEAM EXPENSES & SALARY SETTINGS
See image below.
---
PLAYERS & OPTIONS
Generate Int Amateur Free Agents = Disabled (Int Amateurs added to Minor League FA list after they appear in MiLB when game update is released each March)
International Scouting Discoveries per team = Zero
Generate Int Established FAs = Zero
Generate Ind League FAs = Zero
Spring Training Schedule = 5 weeks (Default)
Number of Games = 162
We'll play 162 games total. The length of the schedule is 185 days.
12 games against each team in our league. 6 games against 4 of the teams in the other league and 5 games against the other 6.
Interleague Play = Enabled
Playoff Roster Rule = Enabled
Playoffs = Three Division Winners plus three Wildcard Teams. The first two Division winners get a bye. The third Division Winner plays 6th seed and 4th and 5th seeds play three games series, all at home of higher seed. The winner of 4/5 Wildcard seies plays division winner with best record. The second best division winner plays DW3/#6 Wildcard series winner.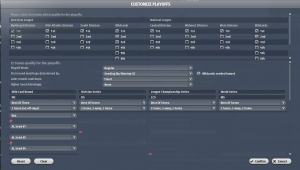 ---
GAME OPTIONS
Complete Scouting System = ON
Scouting Accuracy = Normal
Injuries Frequency = Normal (OOTP Classic)
Delayed Injury Diagnosis = Occasionally
Position Player Fatigue = Average
Suspension Frequency = Low
Ratings Scale = 20 to 80
Overall/Potential Rating = On (20 to 80)
Top Prospect List = Dynamic
Storylines = On (Retirements and career-ending injuries ignored)
Trading AI Settings
Trading Difficulty = Hard
Trading Preference = Neutral
Player Evaluation AI Settings
Ratings Weight = 65%
Current Year Stats Weight = 20%
Previous Year Stats Weight = 10%
2 Years Ago Stats Weight = 5%
(Default settings)
PLAYER OPTIONS
Batter/Pitcher Aging Speed = 1.000
Batter/Pitcher Development Speed = 1.000
Talent Change Randomness = 100
---
MINOR LEAGUE ROSTER SETTINGS
AAA – 28 players – 0-50 years old – No service limits
AA – 28 players – 0-50 years old – No service limits
High A (A+) – 30 players – 4 years service max
Low A (A) –  30 players – 3 years service max
Rookie (R) – 35 players – 2 years service max
Counting the 26-Man Major League Roster we'll have a maximum of 177 players in each organization, including 151 minor leaguers.