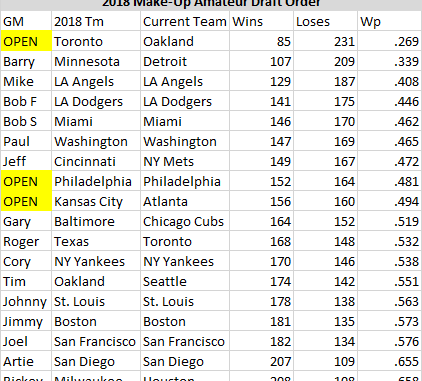 Starting on October 15th we will conduct an Amateur Draft for the 2018 season. As you know, in OOTP minor league players are available for use during the season. (They aren't just names on a roster, too, they play.) In typical OOTP seasons, teams draft at the same time as real MLB. In our league, since we'll stay tethered to real life. We will conduct our draft in October, so I can create a draft pool of only players who signed.
Future Drafts
Typically, our Rule 4 Draft will consist of 20 rounds. In the first 10 rounds, we'll use StatsPlus to pick players live. (StatsPlus+ is an add-on for OOTP which integrates with Slack.) Teams will have a time limit to make picks each round (six hours for the first round, with less time as the draft continues). When a pick gets made, the next team will be notified with a message in Slack. They will then be on the clock. The remaining 10 rounds will be completed via draft lists created within StatsPlus+. Teams will also be able to have their Assistant GM handle the process.
This Year's Make-Up Draft
For the October 15th 2018 Make-Up Draft, however, we will pick using draft lists only and picking only 17 rounds.
If you don't have time to scout or aren't yet up to speed with OOTP, no problem; I will pick for you using the real draft order. (I'll pick the highest draft pick available.) Since we are transitioning this year and this is a make-up draft using the simplified process will get us caught up to the new game timeline. At the same time people can begin the process of building OOTP minor league systems. (Who doesn't like getting players?)
I have established draft order for all teams using the combined 2017+2018 winning percentage. We are using the timeline using your feedback in the Facebook poll I conducted on the topic.
Here is the draft order for the October 15, 2018 Make-Up Amateur Draft: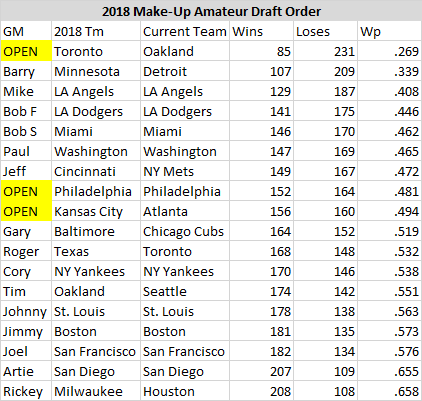 Teams start with all their scheduled draft picks. (Picks traded last year will be exchanged in the 2019 draft.) Picks are now tradable.
The 2019 Draft will be based on the 2018 standings. After this make-up draft, draft order will be based on regular season record. World Series participants will no longer draft at the bottom.
The Draft Pool consists of 308 players who were signed within the top 13 MLB Rounds and who appeared in OOTP 2018 Draft Pool. The following file includes the draft pool ordered by where they were picked in the draft. This is the default order for selection. I also provided players' signing bonus, MLB.com draft information, and OOTP player ratings. (The info is provided for your information.)
Download 2018 Amateur Draft Pool
Again, if you don't have time or interest I will make all 17 round picks for your team using the real draft order. If you have time and interest, reorder the players to your liking. If you send me an updated draft order, feel free to include additional draft instructions. (I only want 3 catchers and 10 pitchers, for example.)
Although some of the top picks were already taken in last year's Minor League Draft, there are still some top prospects available. After the first few rounds, the available players will mostly be lottery picks, just like a real MLB Rule 4 Draft. Like real life, though, hit on a few of those picks and your team will be better in the future.