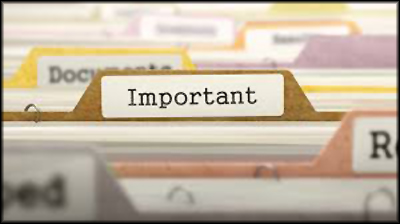 Here is a list of players who I couldn't match up as active in OOTP 22's 2021 season file. There is a chance my database matches misclassified a player, so take a look and let me know if you think the player shouldn't be retired.

Here's a graphic with players currently on 26-Man Rosters.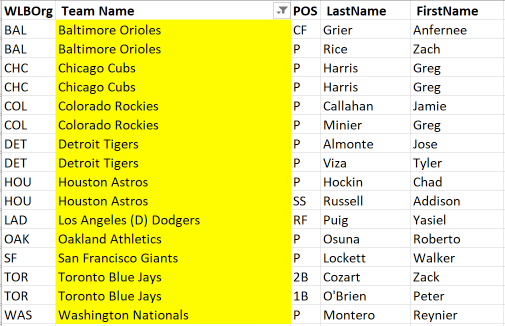 Here's a table with all the players scheduled to be retired when the season finishes.
| | | | | |
| --- | --- | --- | --- | --- |
| WLBOrg | Team Name | POS | LastName | FirstName |
| ATL | Atlanta (GCL) Braves | 1B | Alamo | Tyler |
| ATL | Wilmington Blue Rocks | 1B | Arcendo | Luis |
| ATL | Omaha Storm Chasers | 1B | Arenado | Jonah |
| ATL | Wilmington Blue Rocks | LF | Bellinger | Cole |
| ATL | Wilmington Blue Rocks | LF | Castillo | Pedro |
| ATL | Wilmington Blue Rocks | 2B | Espinal | Walner |
| ATL | Northwest Arkansas Naturals | C | Gonzalez | Gamaliel |
| ATL | Atlanta (GCL) Braves | P | Heredia | Ferrol |
| ATL | Wilmington Blue Rocks | P | Herrera | Johan |
| ATL | Northwest Arkansas Naturals | P | Leal | Jhairon |
| ATL | Wilmington Blue Rocks | P | Noguera | Luis |
| ATL | Atlanta (GCL) Braves | P | Nunez | Braulio |
| ATL | Omaha Storm Chasers | P | Oaks | Trevor |
| ATL | Atlanta (GCL) Braves | SS | Rojas | Edidson |
| ATL | Northwest Arkansas Naturals | RF | Uselton | Conner |
| ATL | Atlanta (GCL) Braves | P | Vizcaino | Emanuel |
| BAL | Bowling Green Hot Rods | 1B | Altmann | Josh |
| BAL | Bowling Green Hot Rods | P | Arauz | Harold |
| BAL | Baltimore (GCL) Orioles | P | Braley | Taylor |
| BAL | Durham Bulls | P | Dyson | Sam |
| BAL | Bowling Green Hot Rods | P | Eubanks | Alex |
| BAL | Montgomery Biscuits | C | Garcia | Jose Yonayker |
| BAL | Montgomery Biscuits | P | Gaviglio | Sam |
| BAL | Baltimore Orioles | CF | Grier | Anfernee |
| BAL | Durham Bulls | P | Larkins | Turner |
| BAL | Baltimore (GCL) Orioles | P | Medina | Javier |
| BAL | Baltimore Orioles | P | Rice | Zach |
| BAL | Bowling Green Hot Rods | P | Robinson | Alex |
| BAL | Bowling Green Hot Rods | C | Spiwak | Owen |
| BAL | Baltimore (GCL) Orioles | P | Terrero | Franco |
| BAL | Montgomery Biscuits | C | Vallot | Chase |
| BAL | Bowling Green Hot Rods | SS | Wakamatsu | Luke |
| BOS | Boston (GCL) Red Sox | 2B | Garcia | Franklin |
| BOS | Boston (GCL) Red Sox | 1B | Mundell | Brian |
| CHC | Frederick Keys | 1B | Cordero | Andretty |
| CHC | Bowie Baysox | P | Ellington | Brian |
| CHC | Bowie Baysox | RF | Garcia | Anthony |
| CHC | Chicago Cubs | P | Harris | Greg |
| CHC | Chicago Cubs | P | Harris | Greg |
| CHC | Bowie Baysox | P | Jones | Tyler M. |
| CHC | Frederick Keys | P | Lee | Chris |
| CHC | Frederick Keys | P | Mills | McKenzie |
| CHC | Chicago N (AZL) Cubs | P | Pena | Luis |
| CHC | Chicago N (AZL) Cubs | P | Pennington | Josh |
| CHC | Frederick Keys | 1B | Vizcaino Jr. | Jose |
| COL | Flower Mound Air Riders | LF | Aleixo | Axel |
| COL | Flower Mound Air Riders | P | Buffo | Maverik |
| COL | Colorado Rockies | P | Callahan | Jamie |
| COL | Flower Mound Air Riders | P | De La Cruz | Carlos Daniel |
| COL | South Browning Emperors | C | Dimino | Anthony |
| COL | Flower Mound Air Riders | P | Florentino | Juan |
| COL | Lexington Slammers | P | Franks | AJ |
| COL | Lexington Slammers | 3B | Lambert | Greg |
| COL | Colorado Rockies | P | Minier | Greg |
| COL | White Lake Township Golden Panthers | P | Povse | Max |
| COL | Flower Mound Air Riders | P | Prohoroff | Dylan |
| COL | Lexington Slammers | P | Rose | Jayson |
| COL | White Lake Township Golden Panthers | 2B | Travis | Devon |
| COL | Lexington Slammers | P | Valladares | Randy |
| COL | Flower Mound Air Riders | 2B | Velasquez | Emir |
| DET | Detroit (GCL) Tigers | CF | Adames | Ernesto |
| DET | Detroit Tigers | P | Almonte | Jose |
| DET | Detroit (GCL) Tigers | CF | Arocha | Jose |
| DET | Chattanooga Lookouts | RF | Becerra | Wuilmer |
| DET | Chattanooga Lookouts | P | Bostick | Akeem |
| DET | Rochester Red Wings | RF | Castillo | Rusney |
| DET | Fort Myers Miracle | P | Cordero | Starlin |
| DET | Detroit (GCL) Tigers | SS | De Castro | Rikelvin |
| DET | Fort Myers Miracle | C | Garcia | Pablo |
| DET | Rochester Red Wings | RF | Gerber | Mike |
| DET | Rochester Red Wings | C | Greene Jr. | Marcus |
| DET | Fort Myers Miracle | P | Guillen | Angel |
| DET | Detroit (GCL) Tigers | P | House | Alex |
| DET | Fort Myers Miracle | 1B | Mardirosian | Shane |
| DET | Chattanooga Lookouts | 3B | Michalczewski | Trey |
| DET | Fort Myers Miracle | P | Miniard | Micah |
| DET | Fort Myers Miracle | P | Paulino | Jose |
| DET | Chattanooga Lookouts | P | Sodders | Austin |
| DET | Chattanooga Lookouts | P | Suarez | Andrew |
| DET | Detroit (GCL) Tigers | SS | Verbel | Dewins |
| DET | Detroit Tigers | P | Viza | Tyler |
| HOU | Houston (AZL) Astros | P | Adcock | Brett |
| HOU | Carolina Mudcats | P | Alcantara | Victor |
| HOU | Carolina Mudcats | SS | Baldoquin | Roberto |
| HOU | Biloxi Shuckers | P | Boshers | Buddy |
| HOU | Colorado Springs Sky Sox | RF | Collins | Tyler |
| HOU | Carolina Mudcats | P | Crockett | Kyle |
| HOU | Carolina Mudcats | RF | Davidson | Braxton |
| HOU | Colorado Springs Sky Sox | SS | Gennett | Scooter |
| HOU | Houston (AZL) Astros | P | Gomez | Rafael Antonio |
| HOU | Biloxi Shuckers | P | Hirano | Yoshihisa |
| HOU | Houston Astros | P | Hockin | Chad |
| HOU | Carolina Mudcats | CF | Jebavy | Ronnie |
| HOU | Houston (AZL) Astros | P | Keller | Stephen |
| HOU | Biloxi Shuckers | P | Kelley | Shawn |
| HOU | Biloxi Shuckers | P | Light | Pat |
| HOU | Biloxi Shuckers | LF | Norwood | John |
| HOU | Carolina Mudcats | C | Peroni | Anthony |
| HOU | Carolina Mudcats | P | Raquet | Nick |
| HOU | Houston Astros | SS | Russell | Addison |
| HOU | Colorado Springs Sky Sox | LF | Toles | Andrew |
| HOU | Colorado Springs Sky Sox | RF | Williamson | Mac |
| LAA | Los Angeles A (AZL) Angels | RF | Alcime | Larry |
| LAA | Mobile BayBears | P | Alvarez | Dario |
| LAA | Los Angeles A (AZL) Angels | P | Arias | Estarlin |
| LAA | Mobile BayBears | P | Buttrey | Ty |
| LAA | Mobile BayBears | P | Capps | Carter |
| LAA | Salt Lake Bees | P | Gohara | Luiz |
| LAA | Inland Empire 66ers | P | Herrera | Ronald |
| LAA | Inland Empire 66ers | 1B | Kirtley | Zach |
| LAA | Mobile BayBears | P | Kline | Branden |
| LAA | Los Angeles A (AZL) Angels | P | Lawson | Brandon |
| LAA | Inland Empire 66ers | RF | McCain | Garrett |
| LAA | Mobile BayBears | P | Miller | Jared |
| LAA | Salt Lake Bees | P | Norris | Bud |
| LAA | Inland Empire 66ers | P | Santos | Michael |
| LAA | Inland Empire 66ers | C | Susnara | Tim |
| LAD | Tulsa Drillers | C | Kratz | Erik |
| LAD | Tulsa Drillers | 3B | Lugo | Dawel |
| LAD | Los Angeles (D) Dodgers | RF | Puig | Yasiel |
| LAD | Tulsa Drillers | 2B | Tobias | Josh |
| MIA | Miami (GCL) Marlins | P | Autry | Trent |
| MIA | Jupiter Hammerheads | CF | Cespedes | Ricardo |
| MIA | Jupiter Hammerheads | P | Hightower | Scooter |
| MIA | New Orleans Baby Cakes | P | Johnson | Jim |
| MIA | Miami (GCL) Marlins | P | Lara | Janser |
| MIA | Jupiter Hammerheads | 2B | Loehr | Trace |
| MIA | Jupiter Hammerheads | P | McKay | David |
| MIA | Miami (GCL) Marlins | P | Mondile | Tyler |
| MIA | New Orleans Baby Cakes | P | Rea | Colin |
| MIA | Jupiter Hammerheads | RF | Rifaela | Ademar |
| MIA | Jupiter Hammerheads | P | Scahill | Rob |
| MIA | Jupiter Hammerheads | C | Yett | Harris |
| MIA | New Orleans Baby Cakes | 2B | Young | Andy |
| NYM | Daytona Tortugas | 3B | Beltre | Kelvin |
| NYM | Pensacola Blue Wahoos | P | Bivens | Blake |
| NYM | Daytona Tortugas | P | De Los Rios | Enrique |
| NYM | Pensacola Blue Wahoos | RF | Dixon | Brandon |
| NYM | Daytona Tortugas | P | Jaskie | Oliver |
| NYM | New York N (GCL) Mets | P | Voyles | Jim |
| NYY | Trenton Thunder | RF | Baker | Ken |
| NYY | Tampa Tarpons | LF | Bradshaw | Montae |
| NYY | New York (Y) Yankees | RF | Braun | Ryan |
| NYY | New York A (GCL) Yankees | LF | Caraballo | Richard |
| NYY | Tampa Tarpons | 3B | Denton | Bryce |
| NYY | New York A (GCL) Yankees | 2B | Francees | Jerrick |
| NYY | Tampa Tarpons | P | Gonzalez | Carlos |
| NYY | Scranton WB RailRiders | 1B | Gyorko | Jedd |
| NYY | Trenton Thunder | SS | Karaviotis | Mark |
| NYY | Trenton Thunder | P | Sheller | Walker |
| NYY | Scranton WB RailRiders | C | Silva | Rainis |
| NYY | Scranton WB RailRiders | LF | Span | Denard |
| NYY | Scranton WB RailRiders | 1B | Trumbo | Mark |
| NYY | Tampa Tarpons | RF | Valdez | Edinson |
| NYY | New York (Y) Yankees | P | Wilson | Brad |
| NYY | Trenton Thunder | P | Young | Kyle |
| OAK | Buffalo Bisons | P | Archer | Tristan |
| OAK | Dunedin Blue Jays | C | Bejerano | Manny |
| OAK | New Hampshire Fisher Cats | P | Chavez | Lupe |
| OAK | Oakland (AZL) Athletics | P | Colmenares | Luis |
| OAK | Buffalo Bisons | P | Fields | Josh |
| OAK | New Hampshire Fisher Cats | P | Frawley | Matt |
| OAK | Dunedin Blue Jays | P | Gonzalez | Erbert |
| OAK | New Hampshire Fisher Cats | LF | Hill | Tyler |
| OAK | Buffalo Bisons | P | Kaminsky | Rob |
| OAK | Oakland Athletics | P | Osuna | Roberto |
| OAK | Buffalo Bisons | SS | Simcox | A.J. |
| OAK | Buffalo Bisons | P | Smith | Carson |
| OAK | New Hampshire Fisher Cats | 2B | Souffront | Jefrey |
| PHI | Philadelphia (GCL) Phillies | RF | Ramirez | Alexander |
| SD | San Antonio Missions | C | Camacho | Juan Carlos |
| SD | San Antonio Missions | P | Mendez | Yohander |
| SEA | Nashville Sounds | P | Ramos | Darwin |
| SF | San Francisco (AZL) Giants | LF | Alastre | Jesus |
| SF | San Francisco (AZL) Giants | C | Alvarez | Oscar |
| SF | Richmond Flying Squirrels | P | Ashbeck | Elliot |
| SF | San Francisco (AZL) Giants | 2B | Blackman | Tate |
| SF | San Francisco (AZL) Giants | P | Cabrera | Wander |
| SF | Richmond Flying Squirrels | P | Cedeno | Xavier |
| SF | Richmond Flying Squirrels | P | Chiang | Shao-Ching |
| SF | Richmond Flying Squirrels | P | Cochran-Gill | Trey |
| SF | Richmond Flying Squirrels | P | Deetz | Dean |
| SF | Sacramento River Cats | P | Font | Wilmer |
| SF | Richmond Flying Squirrels | P | Gonzalez | Derian |
| SF | San Francisco (AZL) Giants | P | Kiel | Hunter |
| SF | Sacramento River Cats | 3B | La O | Luis Yander |
| SF | San Francisco Giants | P | Lockett | Walker |
| SF | Sacramento River Cats | P | Montgomery | Mark |
| SF | San Jose Giants | 1B | Pimentel | Sandber |
| SF | San Jose Giants | P | Radke | Travis |
| SF | Sacramento River Cats | P | Shackelford | Kevin |
| SF | San Jose Giants | 3B | Tolbert | L.T. |
| STL | St. Louis (GCL) Cardinals | P | Castaneda | Felipe |
| STL | Palm Beach Cardinals | P | Cruz | Juan |
| TOR | Toronto (GCL) Blue Jays | SS | Batista | Enrique |
| TOR | Frisco RoughRiders | P | Changarotty | Will |
| TOR | Toronto Blue Jays | 2B | Cozart | Zack |
| TOR | Frisco RoughRiders | P | Cruz | Israel |
| TOR | Down East Wood Ducks | 2B | Fisher | Clay |
| TOR | Round Rock Express | LF | Gassaway | Randolph |
| TOR | Toronto (GCL) Blue Jays | 2B | Gilma | Joseph |
| TOR | Frisco RoughRiders | C | Harris | Joey |
| TOR | Down East Wood Ducks | P | Hrbek | Danny |
| TOR | Frisco RoughRiders | LF | Isaacs | Todd |
| TOR | Down East Wood Ducks | RF | Kemp | Trenton |
| TOR | Down East Wood Ducks | P | Kohler | Chris |
| TOR | Down East Wood Ducks | P | Mendez | Deivy |
| TOR | Frisco RoughRiders | P | Miller | Brandon |
| TOR | Down East Wood Ducks | RF | Mitchell | Kevonte |
| TOR | Down East Wood Ducks | P | Moran | Spencer |
| TOR | Frisco RoughRiders | P | Morrison | Ben |
| TOR | Toronto (GCL) Blue Jays | C | Mota | Ismerling |
| TOR | Toronto Blue Jays | 1B | O'Brien | Peter |
| TOR | Toronto (GCL) Blue Jays | P | Ramirez | Yonathan |
| TOR | Toronto (GCL) Blue Jays | C | Regnault | Andres |
| TOR | Frisco RoughRiders | 2B | Rios | Frankie |
| TOR | Toronto (GCL) Blue Jays | P | Rios | Willie |
| TOR | Down East Wood Ducks | C | Salva | Yordany |
| TOR | Toronto (GCL) Blue Jays | P | Santana | Kilber |
| TOR | Frisco RoughRiders | 1B | Tapia | Emmanuel |
| TOR | Down East Wood Ducks | 2B | Valaika | Nick |
| WAS | Potomac Nationals | LF | Antunez | Adrian |
| WAS | Harrisburg Senators | 2B | Cardenas | J.C. |
| WAS | Harrisburg Senators | P | Cruz | Rhiner |
| WAS | Potomac Nationals | 1B | Ganns | Trey |
| WAS | Harrisburg Senators | P | Hinsz | Gage |
| WAS | Harrisburg Senators | P | James | Christian |
| WAS | Harrisburg Senators | P | Jimenez | Eduardo |
| WAS | Washington (GCL) Nationals | P | Lara | Breidy |
| WAS | Potomac Nationals | P | Martinez | Rodolfo |
| WAS | Washington (GCL) Nationals | C | Martinez | Ulises |
| WAS | Washington Nationals | P | Montero | Reynier |
| WAS | Potomac Nationals | P | Ortiz | Willy |
| WAS | Potomac Nationals | P | Paredes | Eduardo |
| WAS | Potomac Nationals | CF | Patino | Jose |
| WAS | Harrisburg Senators | 1B | Paulsen | Justin |
| WAS | Washington (GCL) Nationals | 1B | Pineda | Jason |
| WAS | Harrisburg Senators | 3B | Trahan | Blake |
| WAS | Washington (GCL) Nationals | P | Warren | Brac |