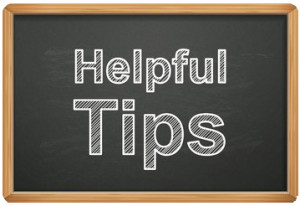 In OOTP there are a few different ways to manage your team (both as a GM and field manager). They range between turning over full control to your team's AI personnel and keeping full control of every facet of managing your team. Knowing the available options may be a little confusing for game novices, so I provide a few tips to help you figure out the best way to set things up to balance your time and interest level with the game's features.
I hope you find the tips helpful.
---
Tips for Managing your 40-Man Roster, Lineups, and Depth Charts
---
Turning on Active Roster Moves (Demotions, Promotions, DL etc.
I don't suggest turning on this option unless your team is on full auto because activating this option might handle more than you might expect. Not only does it assume control of Active/40-Man demotions and promotions, it gives your team's Assistant GM (aGM) control of:
40-Man Demotions & Promotions
Minor League Signings & Releases
Minor League Promotions/Demotions/Strategy
When you turn on this option it toggles the Minor League settings immediately.
With Minor League Signings & Releases turned on, your aGM can release a minor leaguer that you cherish. A bigger issue with this setting is, there seems to be a bug where your aGM might release a 40-Man player even if you have Transactions (Signing Free Agents, Releasing Players, etc.) set to your control.
To work around this bug and allow GMs to turn over 40-Man Demotions & Promotions, I'm initiating a policy whereby, as long as you notify me within seven days of a 40-Man player's release and have Transactions (Signing Free Agents, Releasing Players, etc.) set to your control when the move is made, I will manually return the player to your roster.
Again, you should only turn on this setting if you wish to give the AI full control of all roster moves for both your Major League and your farm rosters.
Manually Asking your Assistant GM and Bench Coach for Help
An alternative to turning over full control to your AI is keeping those options turned and periodically manually activating particular AI tasks. For example you can manually (on demand) ask the AI (your aGM) to set your 40-Man/Active/AAA demotions and promotions and manage your lineups, pitching, and strategy. From what I've seen, using this option allows a GM to get help from the game's AI without triggering the bug discussed above.
To use this option, you start by setting the following Team Control Options to your control.

There are a few levels of assistance that you can get.
Manually Triggering the AI to set up your Organization
Periodically triggering Ask AI to set up complete organization, lineups, etc. will set up your entire organization. Although you can do this at any time, primarily you'd only do it at the beginning of a season.
To have the AI set up your entire organization you, go to the Rosters & Transactions page for your team and look for the Actions dropdown on the right of the page.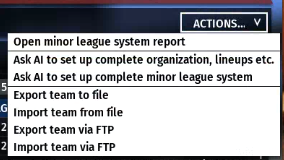 Keeping overall control of your team and manually choosing this setting allows you to use the AI, with an option to adjust them before the changes get used. You can trigger the setting manually at any time during the season.
Using the AI this way is like having your underlings come to you with their plans for approval. Using the AI this way reduces the chance that you will miss a 40-Man player release and permanently lose a 40-Man player. (You should check your total team transactions and contact the Commissioner immediately if you see a problem.)
Asking the AI for help with your Lineups and Depth Charts
Unlike the previous option you manually control your 40-Man and Active Rosters like you did with Dynasty League Baseball. Doing things this way requires a little more time as it requires you to regularly keep an eye on your team, especially for injuries. Essentially you operate as the GM of your team's 40-Man players only.
Sub-Option One – Have your Manager or Bench Coach Control your Lineups, Pitching Staff, and Strategy
This option is easy. Under your Team Control Settings, you select your Bench Coach in control of Setting Lineups & Depth Charts and Setting Pitching Staff.
Sub-Option Two – Asking your Bench Coach to Help Set up you Lineups, Pitching Staff, and Strategy
After you manually change your 25-Man Roster you manually trigger the AI to make adjustments to your lineups, pitching, and game strategy you visit your team's Lineup page, <right click> on the Actions dropdown to the far right of the screen, and select from the following options: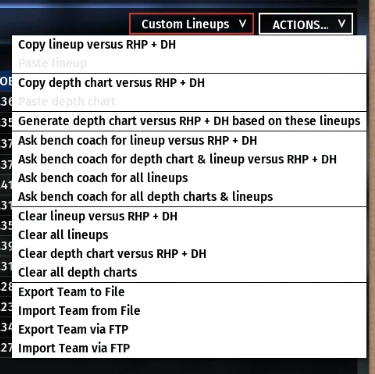 After he sets things up, you then can manually adjust things to your preferences. This option gives you some control with a small time investment.
---
Tips for Managing your Farm Roster
Promotions and Demotions
If you feel handling all of players in your farm system is a chore but still want to make decisions for your top prospects, here is an easy way for you to manage your most important prospects while letting the AI handle everyone else.
Create a Prospect shortlist
At the start of the year (and whenever you acquire one) add your most important prospects to your Prospect shortlist.
View your shortlist and select all the players on it by clicking the circle to the left of POS. Then > right click > Disable AI Promotion/Demotion for all the players.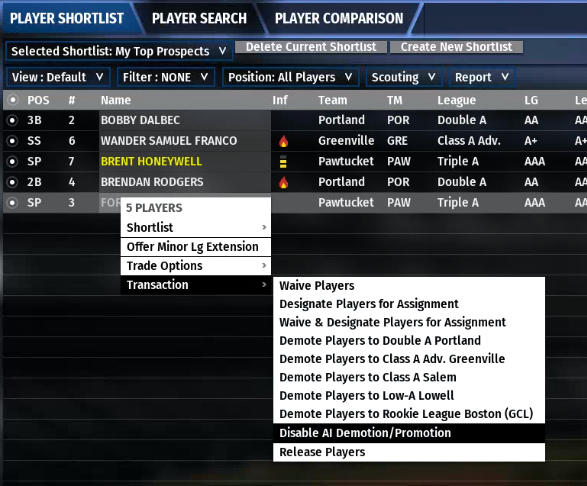 Check your shortlist every 2-4 weeks to monitor how your prospects are doing.
Promote/demote them from that one condensed, uncluttered list.
In Manager Options turn on Minor League Promotions/Demotions/Strategy and the AI will manage the rest of your prospects.
Optionally, you can keep control of Minor League Promotions/Demotions/Strategy but still periodically (every two weeks or every month) let the AI take care of the rest of your farm by going to the Rosters & Transaction screen and selecting Ask AI to set up complete minor league system.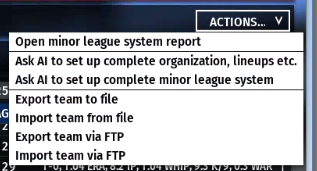 You might also want to periodically check on your other minor leaguers to see if their play warrants getting added to your Prospect shortlist. In any case,
---
Managing Minor League Free Agent Signings & Releases
(OOPS, This section will need to be added later.)
---
Some Other Overall Good Tips
– Constantly check the free agent pool. You can find a lot of good young players that other teams have given up on. Just create some filters and look at potential. Usually you will find some promising players that have a hole or two in their game which could eventually come around.
– Look to pick up prospects that other teams don't value. If I'm making a deal, I take a look at that teams system from the bottom up and see if there is a guy who could develop a little bit into a solid prospect and I can usually add him to the deal for nothing more.
– Trade guys at peak value. I do this from time to time after a guy has been in my system and I don't think he will meet his ceiling but he has a lot of value due to his potential. Flip 'em to a team who overvalues for some guys you like.
– Always draft best player available. Don't worry that you don't have any catcher prospects and draft a couple early to fill a need. Draft guys who you think will develop value.
– Get a good staff. Crappy staff can hinder player development and give you terrible reports on players. Pump some money into scouting and development and hire good coaches to get the best out of your farm.
Deciding between the Options
As always, deciding between the Options is a balance of time versus control. The more time you are willing the spend, the move control you can keep.